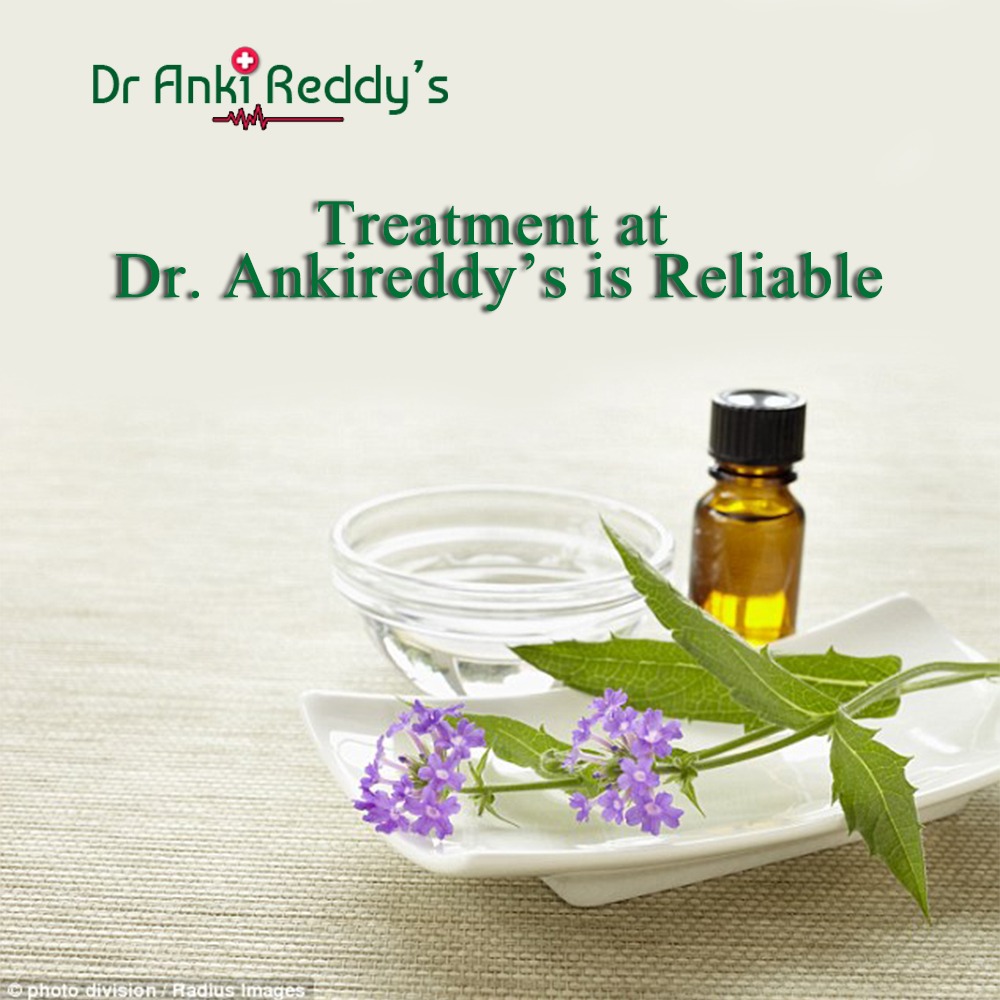 Why is Dr. Anki Reddy the best homeopath?
Every patient's utmost desire is that he or she gets treated well and is always on the lookout for various forms of treatment mode that would not only cure them but also be easy on their purse. Off late homeopathy has become very popular and many are getting treated by expert homeopaths.
Why choose homeopathy?
Safe method of treatment.
Easy on the budget.
Expert homeopaths are available.
No side –effects.
Dr. Anki Reddy' clinic provides excellent homeopathic services.
Does Dr. Anki Reddy compete well in the medical field?
Yes, it certainly does. Expert homeopaths provide the best cure for ailments and ensure that the patient is fully satisfied with the treatment. Personal attention is provided for and neglect is not permitted at any cost. Utmost attention is paid to the patient and he or she is the centre of focus of professional treatment. A patient need not worry about side-effects and can be rest assured about the best treatment will be given.
Does Dr. Anki Reddy charge a lot?
Certainly not! Homeopathy treatment on the whole costs less and Dr. Anki Reddy ensures that best homeopathic treatment is provided for so that the patient recovers with mental ease and physical comfort. Reasonably priced treatment is what Dr. Anki Reddy believes in and the patients know too well that there are no compromises made on the method of treatment.
What is the motto of Dr. Anki Reddy?
Treatment par excellence is what Dr. Anki Reddy believes in and the patient is given the maximum care and attention. Neglect of the patient is not permitted and quality treatment is focused upon. Expertise and professionalism are at their heights and facilities are manifold. Cure the patient with ease and comfort is what Dr. Anki Reddy adheres to.
Homeopathy vs conventional medicine
Many patients hesitate to switch over to conventional medicine, yet a large number of patients are trying out homeopathy as well. Homeopathy is a recent trend but it has caught on fast because there are no side-effects than one may experience in the case of conventional medicine. It is true that majority of patients usually go in for conventional form of treatment, yet homeopathy has its own intrinsic value. Even for pre or post-operative treatment in conventional methods, one can go in for homeopathy.
Are homeopaths at Dr. Anki Reddy well qualified?
No doubt, they are highly qualified and have the required homeopathic expertise. They handle the patient with care and concern. The patient is given the foremost priority and the homeopaths at Dr. Anki Reddy ensure that their patients do not undergo any sort of ordeal. The atmosphere is serene and clinical hygiene is maintained. Patient care is highly valued.
Why are patients taking to homeopathy?
Patients often get tired of the side-effects of the conventional medicine and prefer to try out safer methods of treatment. Side effects in conventional form of medicine can be worrisome and obviously, any sensible patient would like to undergo minimum discomfort. Risks are not many in homeopathic treatment and one can get cured comfortably.
Homeopathy is usually safe and the medicines are very effective medicines to avoid the surgical cases where early surgical cases are taken. In fact, even small benign tumor can be treated with Homeopathy. One can avoid surgery. Can you imagine how much distress surgery causes?
Homeopathy medicines are very useful in the case of surgical cases in order to avoid the surgery as well as to be able to assist speedy recovery in the case of those requiring surgical treatment. Homeopathy treatment does serve to make the surgery unnecessary with the help of preventative treatment.
Conclusion:
Dr. Anki Reddy cures well and treatment is patient-centric. Priority is given to the well-being of the patient and that he or she recovers soon. Homeopathic treatment can be given to any person of different age groups. Even children can be treated. Quite a large number of adult find the homeopathic treatment very viable and sensible. They opt for it as not only they can afford it but it is also very effective. So get cured at Dr. Anki Reddy!