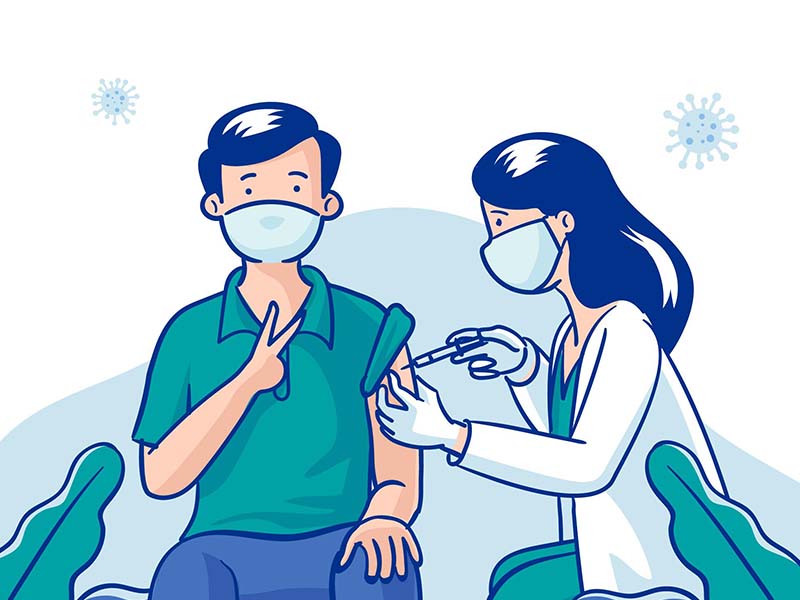 Post Covid-19 Condition and Role of Homoeopathy in It – Part 2
The world is currently facing a COVID-19 pandemic and the next major problem is going to be post-COVID epidemiology. Heavily shaken by the corona pandemics many of us are currently thinking about how we could contribute to overcoming this unexpected situation. A study reported that 87.4% of those who had recovered from COVID-19 reported persistence of at least one or more symptoms, especially fatigue or dyspnoea. According to WHO If people have recovered from COVID-19 but are still experiencing certain symptoms they could have post-COVID-19 conditions. It is also called "long COVID", "long-term effects of COVID" or "chronic COVID".
Post-COVID conditions are a wide range of new, returning, or ongoing health problems, people can experience four or more weeks after first being infected with the virus that causes COVID-19. Even people who did not have COVID-19 symptoms in the days or weeks after they were infected can have post-COVID conditions. These post-COVID-complications are mainly affecting the Respiratory system, Cardiovascular system, and Nervous system. Homeopathy is one of the best ways to prevent and cure Post COVID-19 Complications naturally without any side effects.
These post COVID conditions can have different types and combinations of health problems for different lengths of time. The lungs are the organs most affected by COVID‐19. People commonly report experiencing the following symptoms: difficulty breathing or shortness of breath, cough, chest or abdominal pain, heart palpitations, tiredness or fatigue, symptoms that get worse after physical or mental activities, dizziness on standing, difficulty in thinking or concentrating, sleep disorders, mood swings, Joint or muscle pain, diarrhea, fever, change in smell or taste, irregularities in menstrual cycles. COVID-19 itself can lead to neurological and mental complications, such as delirium, agitation, and stroke.
Some people, mostly children who had severe illness with COVID-19 experience multiorgan effects or autoimmune conditions over a longer time with symptoms lasting weeks or months after COVID-19 illness. In some cases, there may increase the risk of long-term health problems. The type of pneumonia often associated with COVID-19 can lead to long-term breathing problems, increase the risk of developing Parkinson's disease and Alzheimer's disease; blood cells are more likely to clump up and form clots, while large clots can cause heart attacks and strokes; weaken blood vessels which contribute to potentially long-lasting problems with the liver and kidneys also.
Homeopathy has helped in the post covid conditions by its holistic approach. It holds a promise to better health in the Post COVID-19 scenario as well. Homeopathy is a science of vitality and its safeguard the complete well-being of the patient through its holistic approach. And it does so without any side effects, protecting the physical, mental, and emotional health of the patient. Homeopathy has proven efficacy against respiratory illnesses, treatments for depression provide relief from a range of gastrointestinal issues, and also provide symptomatic relief in post COVID conditions. Homeopathy has been recommended as complementary medicine to strengthen immunity and support efforts to recover from post-COVID symptoms. Homeopathy has given the best results during pandemics in the olden days also when the mortality was very less in Homoeopathy in comparison to modern medicine.
The most common Homoeopathic medicines that can help in managing Long COVID complications are Arsenicum Album, Acid Phos, Gelsemium, Phosphorus, Ant. tart, Naja, Crotalu horridus, Carbo.Veg, Arnica etc.
Doctors have said that COVID recovery should not be taken lightly, and patients should continue to practice utmost care and precaution for 2-3 months post-testing negative. With new variants emerging, doctors are also recommending people to use stronger forms of protection. It is very clear that preventing COVID-19 is the best way to prevent the development of the post-COVID-19 conditions. The best way to prevent post-COVID conditions is by getting vaccinated against COVID-19 as soon as you can. Reported side effects to COVID-19 vaccines have mostly been mild to moderate and short-lasting. So, the use of vaccines we know reduces hospitalization and reduces mortality. Public health measures such as wearing masks in the appropriate places, physical distancing, hand-washing, are also extremely important to prevent COVID-19. Fresh fruits and vegetables, eat nutrient-rich foods are part of a healthy diet, and continue participating in mild exercises.