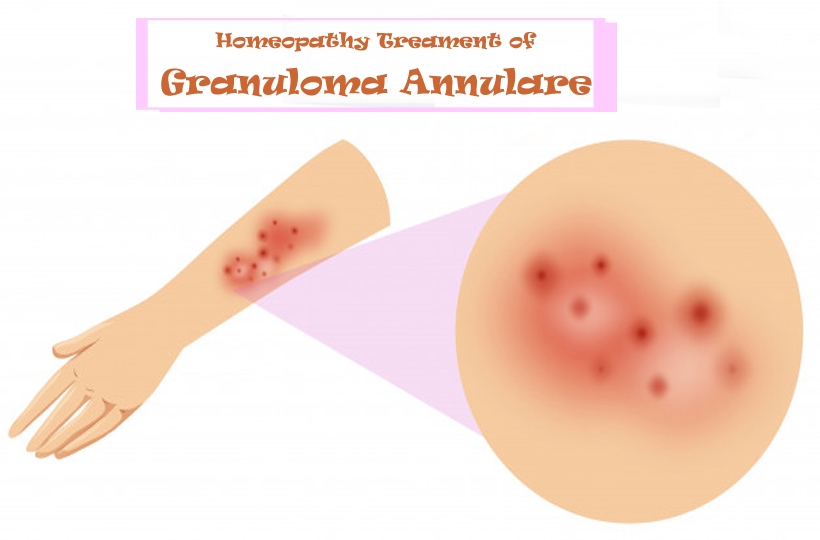 Homeopathy Remedies for Granuloma Annulare
Granuloma Annulare happens in the form of red bumps arranged in the form of a circle or a ring. It is indeed considered to be autoimmune; though, the exact cause is not yet understood.
Overproduction of white blood cells (leucocytes) which do
To be a rare skin disease, which is long-standing (chronic) where one finds skin rash
Diagnosis of Granuloma Annulare:
It is clinically diagnosed and one require a skin biopsy in order to confirm the diagnosis.
Future (Prognosis) of Granuloma Annulare:
It is needs to be treated as otherwise it will be self-limiting in about 2 years. As it happens to be a result of underlying autoimmune disease, it is better treated internally.
Treatment for Granuloma Annulare:
Conventional medicine: One can go in for topical, oral or injectable cortisone cortisone that is administered for the condition. The disease can come back once the effect of the medicine is over. Treatment includes liquid nitrogen to freezing of the bumps. Other forms of treatment are antibiotics and ultraviolet therapy.
Homeopathy treatment of Granuloma Annulare:
Homeopathy treats internal factors by dealing with the immune system making use of oral medicine.
Homeopathy does relieve eruptions and itching. It also treats the person as a whole. Treatment is indeed constitutional. It also means that homeopathic treatment does focus on the patient as a person, as well as his pathological condition. It does balance the energy system, improves immunity as well as body functions. It does cure the root cause of the disorder. Some of the homeopathic medicines for the treatment of granuloma annulare are:
Clematis
Bovista
Graph
Dulcamara
Mezereum
Rhus tox
Sulph
Risk factors:
Being a woman
Being a child or young adult
Diabetes mellitus or thyroid disease
Age above 40
Diagnosis of Granuloma Annulare
Diagnosis involves:
Physical examination
KOH test
Skin biopsy
Precautions & Prevention
• Protecting one's skin from the sun by limiting exposure
• Applying a high-quality sunscreen (SPF 15 or higher)
• Covering one's skin with appropriate clothing
One can indeed consider homeopathic treatment. In addition to this one can try supplemental black currant oil or evening primrose oil. Both do provide GLA (gamma-linolenic acid), an essential fatty acid which one might find it difficult to get in one' diet. GLA does promote healthy growth of skin, hair, and nails. One can also take black currant oil in doses of 500 mg twice a day. One may not see any immediate results; it typically takes about six to eight weeks for changes to appear. If one's diet is not rich in essential fatty acids, one might also consider supplements of fish oil in order to improve skin health.
Conclusion
There are different forms of treat and homeopathy is also very popular for curing Granuloma annulare. Dr Ankireddy is one of the best homeopathy clinic in Hyderabad which provides world's best Homeopathic medicines and dietary changes do resolve several health issues. One can go in for other forms of treatment no doubt, but one can think of opting for homeopathy.