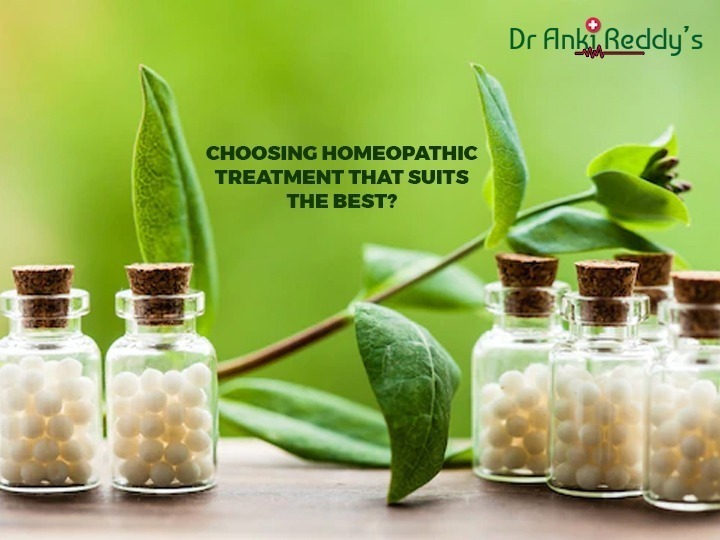 Choosing homeopathic treatment that suits the best?
Homeopathy treatment in Hyderabad is carried out on professional lines and is known for its success rate. Patients can confidently visit a homeopathy hospital in Hyderabad.
Homeopathic medicines are known for their strength in potencies and are mild as well as gentle and perfect for use at home. Homeopathy treatment has indeed no side effects and also helps to give a long-term cure as it does target to improve the underlying cause of one's disease. Homeopathy treatment in Hyderabad can resolve many of these issues.
There is rather no specific rule for the selection of potency in homeopathy. The practitioner does choose the best dose of potency by using his previous experience.
Homeopathic treatment is a highly personalized treatment plan that concerns well with one's constitutional (body) makeup and also a selection of homeopathic remedies suited to one's situation. There is no absolute answer or one-size-fits-all approach that will indeed apply to all patients all the time. Much depends upon the patient's needs, the type of illness h or she is suffering from, and the way they happen to be reacting to the illness. Much also depends upon the experience of the practitioner, since, as experience grows, it does become possible to use distinct approaches as well as different remedy selections in similar circumstances with good results.
A chronic issue or even a medical condition requires the help as well as the guidance of a professionally trained homeopathic expert (homeopath). Homeopathic medicine is considered to be complementary to good quality medical support, not a substitute. Homeopathy hospital in Hyderabad has excellent facilities for successful homeopathic treatment.
How frequently to take a remedy?
Unlike conventional medicines, a homeopathic remedy is taken only when required and discontinued once the ailments do start to improve.
How regularly or frequently a remedy is taken can vary depending on whether the illness happens to be acute or chronic:
A 30c potency homeopathic medicine tends to usually take care of the acute conditions treated at home.
Those acutely ill or injured patients having colds, flu, fevers, injuries, etc, can tolerate high or low potencies that are repeated often. "Often or frequently" implies every few minutes in pressing or urgent situations and even perhaps every 3 to 4 hours in less urgent situations.
For chronically ill patients
Patients with long-term illnesses or health issues do require much care from a professional as it does require a lot more knowledge as well as experience to successfully treat these patients. Usually, the remedy is given only once at the outset of treatment and will then begin either with low potencies that are repeated frequently or with higher potencies repeated occasionally or even infrequently. This is of course followed by a period of observation to allow the patient as well as the homeopath to observe changes that may indeed occur as a result of the remedy. Further course of treatment depends fully on how the patient does respond to the initial dosing. Few patients may rather undergo a dose as infrequently as every few months while others perhaps may take higher potencies daily after some time. Another common practice adopted is that the remedies are changed quite infrequently.
When to Consult a Homeopath Treatment?
Every illness may not be treated at home always. It may be difficult to identify the problem. And it is better to consult a professional homeopath to help identify the right remedy as well as cure. Remember chronic illnesses or ailments need always be handled and treated by a trained professional. It is a good idea to make use of online homeopathy doctors' face-to-face online consultation from the comfort of one's home does help.
Conclusion
It is better to understand homeopathy well to make full use of its healing powers. Homeopathy believes in simple rules such as paying attention to the patient and how they are responding, as well as adjusting to the treatment which is a cardinal practice of the therapy. Homeopathy treatment in Hyderabad is well appreciated by many.