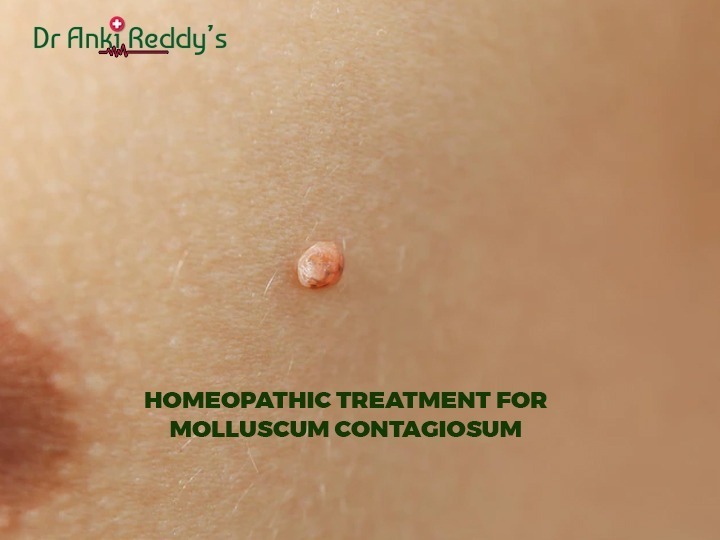 Homeopathic Treatment for Molluscum Contagiosum
Homeo clinic in Hyderabad is worth visiting for relief from Molluscum Contagiosum. Best homeopathic treatment in Hyderabad can be depended upon.
Molluscum contagiosum happens to be a highly contagious viral skin infection. Infection does spread easily by person-to-person contact. The infection leads to round, flesh-colored, painless bumps on the skin, which do vary in size. Molluscum contagiosum does resolve on its own in 6-12 months.
Homeo clinic in Hyderabad can provide all required information about the health issue. Patients must make it a point to visit it.
Common skin infection caused by a pox virus. This does cause round, firm, painless bumps and may also appear anywhere on the body.
It is common and transmitted via direct contact and sexual contact. There is no vaccine available and rarely requires lab tests or imaging.
It is treatable by a medical professional. It can last several months or years.
Causes
Molluscum contagiosum is caused due to a virus that happens to be a member of the poxvirus family. Patients get the infection in different ways.
It is a common infection in children and also occurs when a child comes into direct contact with a lesion or even an object that has the virus on it.
Treatments
Treatments do include topical creams as well as preparations to dissolve the bumps as well as surgical methods to remove them.
Treatment for Molluscum Contagiosum is not necessary, as the lesions do typically disappear and heal without scarring in healthy individuals. Especially in young children, the decision to be able to treat a minor self-limiting condition should be weighed against the potential physical pain as well as psychological hardship associated with some treatment procedures.
Curettage or cryotherapy is indeed commonly performed in the primary care setting.
Most often, molluscum nodules tend to disappear on their own without treatment. This does imply that children with just one or a few widely scattered lesions do not need any sort of special care. However, if the person or his or her child chooses, these lumps can be of course removed by a scraping procedure with a sharp instrument (curette) or by making use of peeling agents or freezing techniques (with liquid nitrogen).
Homeopathy Treatment for Molluscum Contagiosum
Usually, affected patients wait for o the lumps to disappear. In case, they do not disappear, then they have to seek treatment which is usually in the form of cryotherapy, laser therapy, curettage as well as a topical therapy. However few patients are not too pleased with such forms of treatment and prefer homeopathy. Common homeopathy treatment for Molluscum Contagiosum is:
Silicea: This happens to be a medicine to treat skin eruptions with heavy pus. There is itching during the day or evening and patients are advised to wear warm clothes as it helps the treatment process.
Thuja: This is used primarily to treat wart-like wounds in one's anogenital area. It is suited for emotionally sensitive persons.
Sulphur: This is meant to be used to treat parts where the sin happens to be rough, measly as well as coarse. It does help cure pustular eruptions, scalp heat, dryness, and any severe itching and soreness accompanying.
Tuberculinum: In case an adult or child is suffering from Molluscum Contagiousum, they can be given tuberculinum as it does provide much relief if used as an inter-current.
Conclusion
It is obvious homeopathy has much to offer in the form of treatment of Molluscum Contagious. The best homeopathic treatment in Hyderabad is very beneficial to cure this itchy health issue. Both adults and children affected by it are keen to seek relief. Homeo clinic in Hyderabad can do the needful.