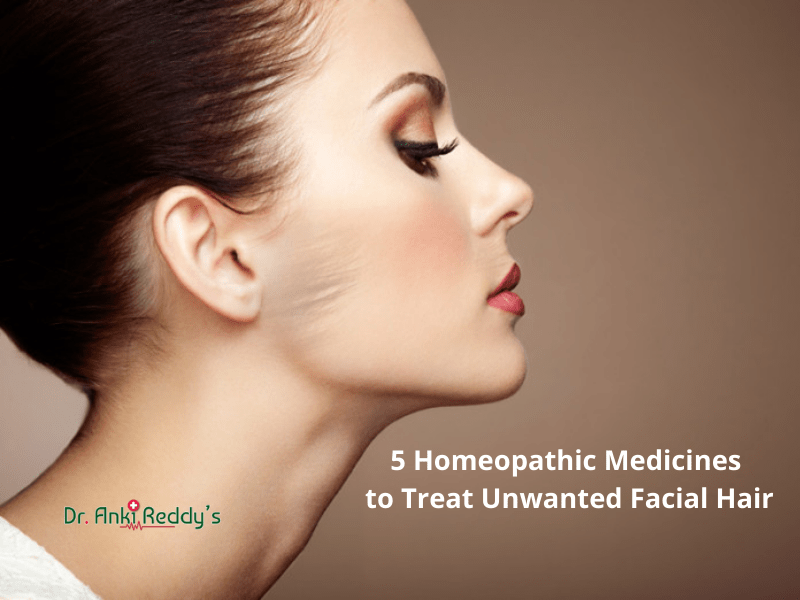 5 Homeopathic Medicines to Treat Unwanted Facial Hair
Top homeopathy clinics in Hyderabad treat unwanted facial hair professionally. Homeopathy treatment in Hyderabad is excellent and women can feel relieved.
Excessive hair on one's body particularly for women can be embarrassing. Usually, hair on the arms, legs, underarms, stomach, and back are accepted as being normal, but excessive growth of facial hair is considered abnormal.
Top homeopathy clinics in Hyderabad are there to tackle this health issue.
How to prevent hair growth on the face of a woman?
Homeopathic medicines are available for unwanted facial hair, with a focus on the root cause of the problem. Genetics does influence the amount of hair on a person's body. The growth of unwanted facial hair is referred to as Hirsutism. It leads to embarrassment, low self-esteem, and distress anxiety cum depression.
Homeopathic Medicine for Treating Unwanted Facial Hair
There are several treatment options for Hirsutism, which include cosmetic as well as medical options.
Cosmetic treatments usually include plucking, waxing, laser hair-removal techniques as well as electrolysis, etc., These forms of treatment can irritate the skin if used continuously for a long time. Medications do treat Hirsutism such as antiandrogens and contraceptive pills. It is worth thinking of homeopathy treatment in Hyderabad.

Homeopathic treatment from unwanted facial hair
1. Oleum Jecoris Aselli – This is a goodRemedy for unwanted facial hair and is prepared from cod liver oil that is derived from several species of fish, usually of the genus Gadus. Cod liver oil is a rich source of Vitamin A and D.
It is made use of to treat abnormal growth of hair on the face of a woman, particularly on the chin as well as upper lips. The hair on the face can be short, dark as well as thick. Also, this remedy has a potent action upon the female sexual organs. It is made use of to treat amenorrhoea as well as oligomenorrhoea, both develop as a result of hormonal imbalance in a female's body. There can be soreness of one's ovaries along with dysmenorrhea.
2. Sepia Succus – This is made use of for unwanted hair due to hormonal imbalance Sepia happens is a medicine obtained from an animal source. The trituration of the dried liquid present in the ink bag of the cuttlefish is made use of to prepare it.
Sepia is made use of to treat unwanted facial hair which usually occurs on account of a hormonal imbalance. It can be due to PCOS or disturbed menses. It is also made use of to treat cases of induration of the ovaries.
3. Oophorinum – For unwanted hair due to PCOS Oophorinum happens to be a medicine that has been prepared from the ovarian extract of a sheep or perhaps the cow. This extract does contain estrogen, progesterone, and follicle-stimulating hormone and is potentized based upon the principles of homeopathy.
Oophorinum is made use of to treat cases of unwanted facial hair that does occur on account of ovarian cysts or tumors. It primarily acts upon the genitals of the female and the skin. The patient feels worse during menses, which are too early, profuse, and clotted as well as of brief duration.
4. Natrum Muriaticum – This useful for unwanted hair on one's upper lips Natrum Mur. is made use of extensively to treat unwanted facial hair that does grow on one's upper lip. Acne on the face can also be present. Menses can be too early, too profuse, and the flow is usually observed at night. The patient can be thin as well as anemic, with excessive dryness of the skin as well as the mouth. This medicine is also used to treat female sterility also.
5. Calcarea Carbonica – This is used for unwanted hair in obese women Calcarea Carb. treats unwanted facial hair in females who tend to be obese, who suffer from slow metabolism, resulting in deposits of fat across the body. This results in hormonal irregularities, causing menstrual disturbances.
Conclusion
These medicines are made use of in top homeopathy clinics in Hyderabad.