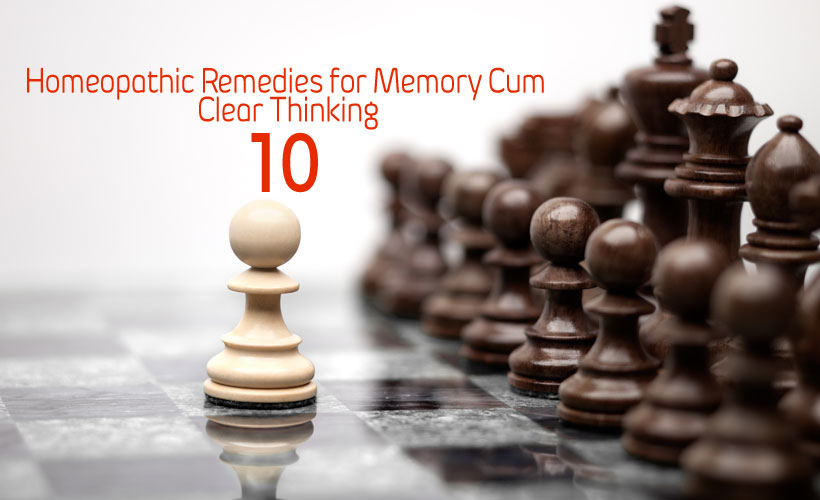 10 Homeopathic Remedies for Memory Cum Clear Thinking
Why not try out these popular remedies for your weakening memory and clearer thinking? After all, one would like to remember things and not forget even simple issues. As one grows older one tends to forget and even school children at times face memory issues. It is very important in these complex days to be clear in one's thinking.
Try these Homeopathic remedies for memory cum clear thinking
AVENA SATIVA
Improves focus cum concentration.
Does relieve nervous exhaustion along with associated symptoms.
Useful for our nervous palpitations as well as sleeping difficulties.
Has a selective action on one's brain as well as nervous system, thus favorably influencing their nutritive function.
AGNUS CASTUS
A useful remedy for absent-mindedness.
Made use of in the cases where the individuals are unable to recollect things and also find it difficult to keep up their train of thought processes.
ANACARDIUM ORIENTALIS
Does reduce sensations of fear, grief, discouragement as well as despair.
It also aids one's self-confidence.
It strengthens one's memory, senses and also does improve the cognitive functions especially when there is a weakening of one's senses, sight, hearing and forth.
ZINCUM METALLICUM
It is very useful for those people who indeed have a rather great weakness of memory and are also extremely sensitive to noises.
It is beneficial for those who have a poor memory due to exhaustion, which is has a physical origin or due to overuse of one's brain thus causing great mental strain or stress.
STRAMONIUM
It does calm a person and also refocuses those who are hysterical or delusional by being able to restore their equilibrium of mind.
Helps in controlling chattiness or overly talkativeness.
Beneficial for those who find the sight of water or anything that glitters causing spasms.
It is also made use of for spontaneous, uncontrolled, exaggerated as well as muscle contractions.
PHOSPHORUS ACIDUM
It is used for improving the weakness of memory on account of sadness, grief, or sorrow.
It also helps with dullness as well as indolence of mind.
It is useful for those with the inability to connect thoughts in other words for scatterbrained peoples.
KALI PHOSPHORICUM
One of the greatest nerve remedies known to homeopathy.
Excellent for those who are weak or tired on account of disturbances of the nervous system.
PHOSPHOROUS
Beneficial for any general affliction of one's mind.
Does calm those who are over-sensitive to outside impressions.
Combats a general loss of one's memory or even paralysis of the mind when the brain does feel rather tired.
Useful for lowness of spirit pr for those who get easily vexed or becoming angry or irritable.
FERRUM PHOSPHORICUM
Good for very talkative people on account of excitement.
Useful for those who tend to have an inability to concentrate on their own thoughts.
MAGNESIA PHOSPHORICA
Much suited for those who are tired, languid i.e. lacking in spirit and are not lively. It is beneficial for indisposition and exhaustion or mental exertion.
Useful for a person who always complains and whines most of the time and is unable to think clearly. Good for those suffering from destructive thoughts.
The above are the 10 Homeopathic remedies for memory cum clear thinking